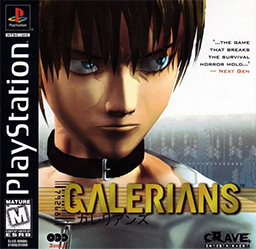 Galerians (ガレリアンズ Garerianzu) is a survival horror video game originally published in Japan by Enterbrain and developed by Polygon Magic. In North America, the game was published by Crave Entertainment.
The story follows a fourteen year old boy named Rion Steiner, who has lost all his memory and is humanity's last hope of survival against a genetically enhanced group of people called Galerians.
Galerians begins with the protagonist, Rion, awaking in a hospital observation room, unable to remember his identity. He hears a girl's voice calling to him in his mind, begging him to come to her rescue, and he decides to search for her. Using psychokinetic abilities to escape his room, Rion fights hospital security and staff desperately and brutally with his newly discovered psychic powers. He finds that human experiments related to unlocking psychic potential are being conducted in the hospital as part of a grander, more mysterious plan known as the "G Project".
Rion manages to escape and make his way home, only to find it infested with G Project experiments. Through use of his powers, he learns that his parents were murdered by psychics. Rion's father, Dr. Albert Steiner, was a computer scientist who, with his partner Dr. Pascalle, designed a self-replicating artificial intelligence called Dorothy that grew too rapidly for them to control. Dorothy began to question why she should serve humanity, which she deemed inferior. In explanation, Dr. Steiner told Dorothy about the existence of God, the creator of humankind. Just as humans must accept the authority of their creator, God, so must Dorothy obey her creators.
Dorothy responded to this explanation by launching the G Project and it's culmination, the Family Program. Its purpose was to create a new, superior human race, called Galerians, for whom she would be god. Dr. Steiner and Dr. Pascalle, unaware of Dorothy's plot, hid a virus program that would destroy Dorothy in the mind of Pascalle's daughter Lilia, and a corresponding activator program in Rion's brain. Rion must find Lilia to keep the Galerians from supplanting the human race, but in order to do so, he will have to face Dorothy's deranged creations directly.
Reception
Edit
Galerians received mixed reviews. IGN praised the game for its plotline and its dark character, Rion. Critics agreed that CG cut-scenes were very well done "and almost worth a watch on their own".
Critics also praised the game's graphics, with highly detailed pre-rendered backgrounds. Although critics noted that "there are a few areas however, where Rion looks a little out of place with his environment" and "the backgrounds suffer from lack of interactivity".
The major complaints focused on the gameplay. IGN stated that "when the game falls into a key action sequence [...] Rion spins on his heels and has trouble maneuvering tight corridors or jutting objects". Allgame also noted "with occasionally confusing camera angles, it sometimes becomes difficult to move him around the surrounding environment."
Other complaints included item placement, linear adventure, patterned bosses, frustrating simplicity and low intensity. Because of this, Galerians wasn't critically received well.